When people think about a Genie costume they probably automatically think that a Genie costume must be for the men only, since the most famous Genie is the big blue Genie seen in the series of Aladdin movies back in the 90's. Whilst the big blue Aladdin Genie costume is the most popular Genie costume available at the moment you'd be surprised by how popular the Genie costumes for girls are at the moment. The main reason for this is that girls like to dress up as princesses and the Genie costumes for girls available are very "princess like" in their overall appearance and so for that reason young girls simply love them.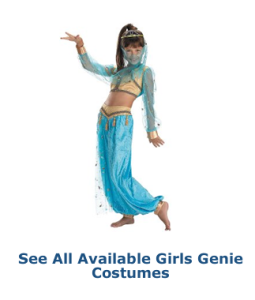 There are a number of Genie costumes available to buy for girls and young children, our favourite most popular costumes are shown below. I think you'll agree that these girls Genie costumes are simply enchantingly beautiful to look at.
This Mystical Genie Costume is perfect for any little princess who deserves to look cute at their next fancy dress or Halloween party. The costume includes everything you're little one is going to need to look just like a mystical Genie. It comes complete with the short gold top which include pretty trim along with the blue sheer sleeves which have printed gold Genie lamps on them. The bottom half of the costume has the blue velveteen trousers which are completed nicely with the addition of a gold colored belt and tassels.
You can tell that this costume is a premium one since it comes with a Tiara which has gold beads and an attached blue veil to finish it off.
The costume will only cost you around $36.99 in price and won't require you to add anything to it as it comes with everything your little one will need. The sizes are generally found in child's small, medium and large which gives an age range of around 7-13.
This standard Genie Child Costume is an exclusive costume for halloweencostumesbin.com, in other words you're not going to find this high quality Genie girls costume anywhere else on the Internet. This is probably one of the most beautiful Genie costume we have ever featured in the range of costumes available, especially for the price which is around $45, a steal!
This Genie Child Costume features everything you're little one is going to need for their next fancy dress party. It comes complete with the sleeveless green belly shirt which is shiny in look, it's matched up with identical pants as well. The pants and the top have a gold trim which runs around their outside, giving the costume that quality look. The costume is nicely completed with the addition of a matching waist cape and golden colored headband that has an attached green sheer drape.
The costume is available to buy in extra small, small, medium and large. So this costume will suit most kids between the ages of 4 and 13 years of age.
To complete this costume and get the best look possible we recommend that you buy an additional Genie clutch bag for your little one to carry her accessories in.
If you're little girl is very much a "girly girl" then this Genie Barbie Child Costume maybe just the thing for them. It's a far more "girly" costume than the ones we've featured above, it's got plenty of pink in the outfit to really give it that feminine look.
The costume include an all-in-one jump suit which is colored in pink and a matching vest and headpiece.The vest and pants have golden trim and fake pearls which add to the overall effect of the costume.
It's an officially licensed Barbie product so by buying this you are guaranteed quality. This costume is available to buy in child sizes small and medium only.